Puppy Class
Welcome to Puppy Start Right
This class is for puppies 8-16 weeks of age.
Your puppy's socialization period starts already at 3-4 weeks of age and ends somewhere between 12-16 weeks of age.
Why is Puppy Start Right so important?

The early puppyhood socialization period is a critical and finite period of time during which puppies are developmentally open to new experiences - sights, sounds, smells, dogs, critters, motion, people, environments, novelty.
Puppies are learning about how to successfully live in modern human society.
Correct, positive socialization can "vaccinate" your puppy against future behavioral issues.
Correct, positive socialization is so critical that the American Veterinary Society of Animal Behaviour (AVSAB) has published a POSITION STATEMENT in which it states that "…it should be the standard of care for puppies to receive such socialization before they are fully vaccinated."
Lack of socialization is detrimental to your puppy's ability to cope as an adult dog and can cause lifelong social deficits, which will affect not only your puppy's quality of life, but yours and your family's, too. Living with a fearful/aggressive dog may seriously affect your lifestyle (inability to have friends over, take a vacation, etc
Watch this Puppy Class from Cowichan Canine on Vimeo.
Registration
You can start as soon as you wish, there is no waiting period. We recommend that you PRE-REGISTER in person, by coming down to our TRAINING CENTRE during office hours, or by calling 250-929-1400. You can then receive your Puppy Package and start your training right away! In a pinch, you can also PAY ONLINE, after which we will email you your registration information so that you can reserve your spot in your first class.
What you need to Register:
REGISTRATION FORM, duly completed and including your veterinarian's signature.

*

Your puppy's

vaccination certificate

for at least the first vaccination for each of Parvo and Distemper
(or an antibody titer laboratory report for parvo and distemper).
* The veterinarian's signature is valid for 10 days. We need to protect all the little puppies in class as much as we possibly can, including yours. We therefore require not only your puppy's vaccination record, but also your veterinarian's signature on your registration form to confirm that your puppy is healthy and can come to class. This is because we cannot vaccinate against everything. Examples of contagious conditions that we cannot vaccinate against include:
- fleas
- lice
- intestinal worms
- giardiasis (a diarrheal disease cause by a parasite and that, if left untreated, may proceed to more severe symptoms such as blood diarrhea, weight loss and dehydration)
- coccidia (another intestinal infection causing diarrhea)

Because we accept little puppies from 8 weeks of age into our programme (necessary because of the sensitive/socialization period lasting only until 12 weeks of age), we must insist on your veterinarian's signature on the registration form.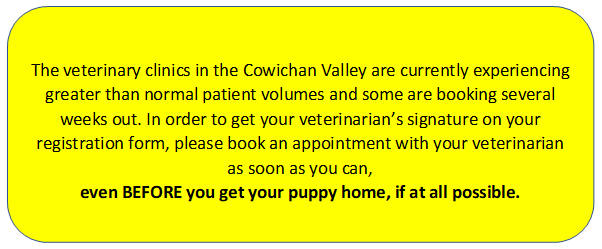 Once you have registered and paid, you will be able to book each class attendance yourself online, taking full advantage of our flexible schedule.

CLICK HERE FOR A LIST OF WHAT TO BRING TO CLASS
What the Programme Includes

The fee includes:

Orientation Class


Please attend Orientation class as soon as you can before or after you bring your puppy to class.

CLICK HERE

for the list of upcoming Orientation classes.

ONE CLASS per week for five weeks and TWO PUPPY PLAY GROUPS per week until puppy turns 16 weeks old.


This means that THE SOONER YOU REGISTER, the more weeks you get in Play Group!

LOGIN CODE

for our

ONLINE CLASS BOOKING SYSTEM

, where you can book your attendance based on what times suits you best.

WELCOME PACKAGE

including TREAT POUCH by Doggone Good Rapid Rewards.
(The optional - but recommended - course book, "

Puppy Start Right

", is also available for purchase.)
In Puppy Start Right Preschool you will learn how to:
Manage your puppy's socialization period correctly, in a positive manner.

Use positive reinforcement training.

Manage and prevent undesirable behaviours.

Understand normal canine behaviour.

Build a life-long bond with your puppy.

Teach your puppy to be comfortable around new and novel stimuli, people and sounds.

Teach your puppy to accept handling and restraint and to become a great veterinary patient and grooming client.

Manage meetings and play sessions between your puppy and other puppies of different breeds of an appropriate age.

Teach your puppy to be comfortable when separated from owner/caregiver.

Guide your puppy when exploring the environment at his/her own pace.

Teach your puppy to share or trade valuable "goodies".
After Puppy Start Right, your puppy will be ready to join our "big dog school" classes to learn their manners, as well as some fun sports. You will find out all about them at Orientation Class, or just browse our website!
If you have any questions, please feel free to contact us!
WELCOME TO CLASS!

What's New?
What Clients Are Saying:
To Everyone at Cowichan Canine: Cyrus & I have just finished the Foundation program and passed with Honours - phew! Along the way we were fortunate to sample several of the other courses that you offer, including private lessons for my other dog, Ricco. It was a real treat to be able to do that . I learned soooo much about my dogs; from how they react to each other, how to understand their body language, to be more patient and even what treats to provide for success. I was very impressed from the start with your on-line registration, the class sizes, the ability to work at our own pace, and even the individual water bowls. And on top of all that, each instructor offers a unique view of training so that you can get different perspectives. And of course, Andrea keeps the ship running smoothly. The time the three of us have spent with you has definitely been a worthwhile Thank you from Sherie, Ricco & Cyrus.

Sherie Robb
Maple Bay
We have taken two dogs through Puppy Playgroup & Foundation. We are so pleased with how socialized our dogs are and well behaved. The methods that the trainers use at Cowichan Canine are amazing and we have to admit when we first started we didn't think it would work with Siberian Huskies, not only did it work but one graduated with honours and the other was pretty darn close! Far exceeded our expectations of when we started the course. The Foundation class with Stephanie was absolutely brilliant and the dogs adored her. She was a wizard in convincing our very stubborn girl to actually want to play to learn! We wished they offered an advanced Foundation class to keep us coming back! We have signed up for the beginners scent detection so we are very excited to start a new chapter with our girls J January 20, 2018

Dee & Terry
Duncan, BC