Jody
Jody Danielson B.Sc. KPACTP grew up in Vancouver and discovered clicker training while trying to teach her childhood dogs Sam (an independent northern breed mix) and Zoe (a feisty terrier) to open the fridge, to turn on the tv and mostly, to come back when called. She was soon training her cat, hamsters, sister and parents.
Jody has always had a passion fo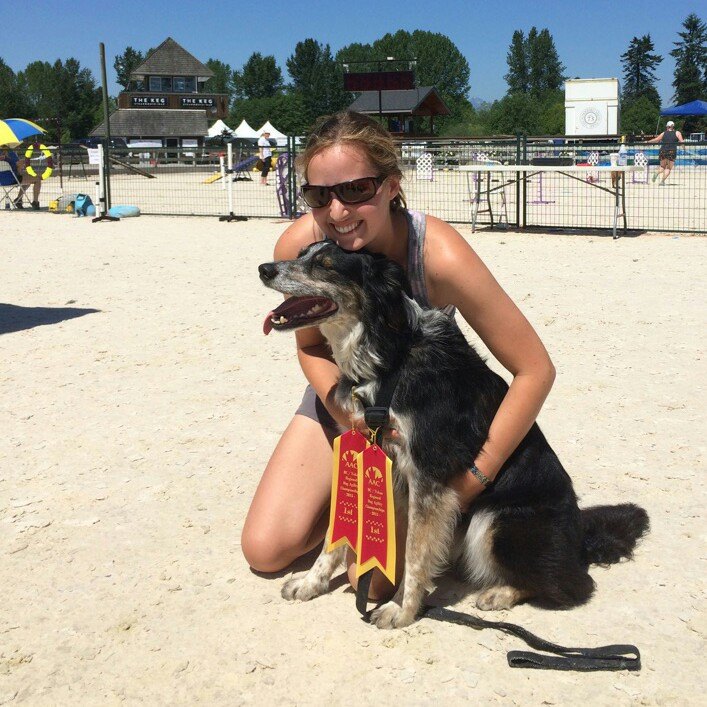 r animal behaviour; her idols were James Herriot and Konrad Lorenz. With that interest at heart, Jody obtained her Bachelor of Science in Animal Biology from UBC in 2008. She concentrated her studies on animal behaviour, psychology, and animal welfare courses; she finished her five years with an undergraduate thesis project involving trained mice with the animal welfare department. On weekends and during co-op work terms, Jody worked as a veterinary assistant with a busy small animal practice, at the UBC animal care centre and as a research assistant for Agriculture and Agri-food Canada.
Because working towards her degree wasn't enough of a time commitment, she also fostered dogs for Border Collie Rescue and adopted reactive, wonderful muttly-dog Abby and BC puppy Ryan. She then took up agility, flyball, herding and Rally-O.
After graduating, she worked as a research technician at the Vancouver Aquarium with the trained Steller sea lions and fur seals. It was there that the art and science of training really came together for her as she worked with species that absolutely cannot be physically forced or intimidated.
Jody now owns a small farm in Glenora with her young family and their chickens, ducks, sheep and a goat. Abby and Ryan are retired from their competitive agility careers, the highlights of which were earning Abby's Agility Trial Champion of Canada and placing 3rd with Ryan at the 2013 AAC Regionals. Jody's current agility dogs are Zoey, a border collie cross who was found in an abandoned Buick as a puppy, and Kevin, a speedy Border Collie x Whippet.
ANNUAL CONFERENCES

Karen Pryor ClickerExpo

Various speakers, 2014 and 2015

PROFESSIONAL COURSES

Karen Pryor Academy for Animal Training & Behavior – Dog Trainer Professional

Helix Fairweather BSc MSc KPA CTP

Karen Pryor Academy for Animal Training & Behaviour - Puppy Start Right for Instructors

Debbie Martin, RVT, VTS (Behavior), CPDT-KA, KPA CTP and Kenneth M. Martin, DVM, Diplomate of the American College of Veterinary Behaviorists

DOGSAFE - Canine First Aid Level 1

Michelle Sevigny

DOGSAFE - Canine First Aid Level 2

Michelle Sevigny

Fenzi Academy - Nosework 101

Julie Symons

WORKSHOPS

Essential Foundation for All Dog Sports

Shade Whitesel

Chicken Camp - Advanced

Terry Ryan CPDT-KA CDBC KPACTP

Chicken Camp - Beginner

Terry Ryan CPDT-KA CDBC KPACTP

Scent Detection

Lucy Newton

Agility - Motivational Handling

Jessica Patterson

Disc Dogs

Angela Ewtushik

Agility Jumping & Gamblers

Diane Mapes

Agility Handling

Richard Ford

MAJOR COMPETITIONS

Agility Association of Canada Nationals

2015, 2012, 2010

Agility Association of Canada Regionals

2016, 2015, 2013, 2012, 2011, 2010, 2009, 2008

What's New?
What Clients Are Saying:
Both Carmella and I had a great time in the Puppy Start Right program and we are amazed every day at how much difference both the program and its philosophy have made for our pup. Thanks again to you and Laurie!!!

Laurel Fossett
Duncan
Hero has been making lots and lots of progress. His only setbacks have been when I have pushed him too far. I am on summer break from teaching and have been dedicated hours each day to his training. Too many great stories to share, but I do have to share this one, for me it was his "graduation." Ever since our sessions with you at the house, I have been working with Hero on an "away" command, where he keeps away from being right in front of doors. For the last months, I drop treats on the floor at the end of the hallway by my living room as I go in and out the front door. I do it 100% of the time. A few weeks ago, high winds blew open the front door at 7:30 a.m. while I was sleeping. I heard Hero pacing in the living room and then whining. I got up to investigate and found Hero waiting patiently in his "away" location, waiting for his treat, rather than go out the un-supervised wide open front door and into mischief. It was worth every treat I had spent!!!!!

Becky & Hero
Duncan